Counterfeit Goods Organization Convicted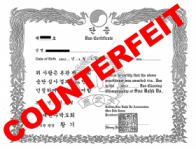 Reading Time:
3
minutes
Counterfeit Goods Organization Convicted
FOR IMMEDIATE RELEASE
April 2012
Hassan Aoun, 43, of Dearborn was found guilty today following a two-week jury trial in federal court, announced United States Attorney Barbara L. McQuade. Aoun was convicted of Conspiracy to Traffic in Counterfeit Goods, and three counts of Trafficking in Counterfeit Goods.
U.S. Attorney McQuade was joined in the announcement by Andrew G. Arena, Special Agent in Charge of the Detroit, Michigan office of the Federal Bureau of Investigation.
In addition to Aoun, seven other members of the Aoun Organization were indicted in August 2010; six of them pleaded guilty, and one, ALI HASSOUN, 33, of New York City, remains a fugitive. Co-defendants who pleaded guilty are:
NITHAL AOUN, 35, of Dearborn, who has been sentenced to serve 2 years in custody, 2 years of supervised release, a fine, and forfeiture;
MOHAMAD AOUN, 26, of Dearborn, who will be sentenced on May 9, 2012;
WISSAM AOUN, 40, of Dearborn, who will be sentenced on July 31, 2012;
GHASSAN AOUN, 47, of Dearborn, who will be sentenced on May 24, 2012;
JOHN TAYLOR, 48, of Detroit, who will be sentenced on May 7, 2012; and
CARLOS EVANS, 43, of Dearborn, who will be sentenced on May 9, 2012.
The evidence presented at trial established that between 2004 and 2010, the Aoun Organization imported counterfeit goods that they represented were luxury name brand products such as Nike, Gucci and Timberland shoes; Coach, Christian Dior and Louis Vuitton purses; and clothing lines from brands such as Diesel Jeans, Burberry, Lacoste, Coogi, and professional sports teams. They transported the goods from New York and sold them at their retail stores in the Detroit area, including Off Da Hook, Da Hook Up, Da Jump Off, Boom Boom Wear, Fresh Gear, Hot Wear, and Kings and Queens.
The defendants have forfeited a 2006 Bentley Continental automobile, a 2002 Toyota Sequoia, and $61,384 in currency, that were either the proceeds of the scheme or used in furtherance of the scheme, as well as over 1,000 shipping boxes filled with counterfeit merchandise.
United States Attorney Barbara McQuade stated: "The business of trafficking in counterfeit merchandise harms victims across a broad spectrum. In November 2011, Attorney General Eric Holder announced that the Department of Justice would lead in the front-line efforts to protect the rights, safety, and best interests of American consumers, innovators, and businesses. In his words: 'As our country continues to recover from once-in-a-generation economic challenges, the need to safeguard intellectual property rights – and to protect Americans from intellectual property crimes – has never been more urgent.
'Make no mistake: intellectual property crimes are anything but victimless. For far too long, the sale of counterfeit, defective, and dangerous goods has been perceived as "business as usual." But these and other intellectual property crimes can destroy jobs, suppress innovation, and jeopardize the health and safety of consumers.
'Fortunately, we can all be part of the solution. Anyone who suspects an IP crime can visit cybercrime.gov, fbi.gov, or iprcenter.gov, to report suspected offenses.
The public's proactive attention to these issues can help us to disrupt the sale of illegal goods; to prosecute the individuals, gangs, and international criminal organizations that profit from these activities; and to stop those who would exploit the ingenuity of others for monetary gain.' "
Sentencing is scheduled for August 14, 2012.
The case was investigated by special agents of the FBI, and was prosecuted by Assistant U.S. Attorneys Cynthia Oberg and Julie A. Beck.
---
The Martial Art Fraud website provides direct links to a number of different reporting agencies dedicated to protecting consumers from fraud and criminal activity. If you discover these illegal activities taking place in your community we encourage you to report them.
The Martial Art Fraud website provides information intended to help you proactively 1) recognize and identify circumstances with a high potential for you to become a victim of fraud, 2) verify factual evidence of fraud and 3) report evidence of fraud to appropriate agencies and authorities. Disclaimer